Welcome to Dalyellup Family Medical Centre and Dalyellup Skin Care Clinic
Dalyellup Family Medical Centre aims for clinical and caring excellence. We provide comprehensive, general medical care within the framework of mutual respect and honesty. For more information see our Vision Statement .
We are located at Unit 11/ 135 Norton Prm, Dalyellup WA 6230, Australia and can be contacted on phone 9795 6422 or Fax 9795 6477.
CORONA VIRUS INFORMATION
Dalyellup Family Medical Centre has been working hard to assist our patients with the threat of the coronavirus (COVID-19 virus). We've can now offer telehealth and phone consultations to allow people to assess essential health services in their home while they undergo self-isolation or quarantine, and reduce their risk of exposure to COVID-19 for vulnerable people in the community.
Please read the article in the What's New section on telehealth consultations.
On booking all appointments please tell the staff if you have a fever, cough, runny nose, are feeling short of breath, travelled overseas in the last 2

weeks, had exposure to someone who has recently travelled or has been confirmed as having the COVID-19 virus.
IF YOU HAVE CONCERNS CLICK ON THE PICTURE BELOW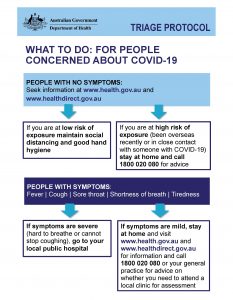 We are an Accredited Practice and strive to offer a caring, team based and accessible medical service. If you would like information about billing arrangements, appointments, obtaining results of tests, referrals, telephoning your doctor or providing feedback you could click here to view our patient-information-sheet.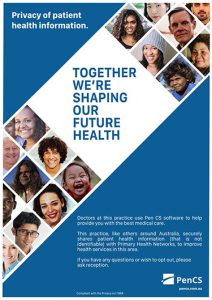 You can access a copy of the New Patient Details and Medical Information sheets by clicking or tapping here. New patient information forms.
The Practice Incentives Program (PIP) Quality Improvement booklet explains about the information Dalyellup Family Medical Centre collects (de-identified) and lets patients know they can opt out if they wish. You can access details of the program by clicking here. Practice Incentives Program
Dalyellup Skin Care Clinic commenced in 2013 to assist Bunbury and South West residents with skin cancers, particularly with early diagnosis and treatment.
Dalyellup Family Medical Centre achieved full accreditation for 3 years after an extensive on-site review on 15th March 2018 by Australian General Practice Accreditation Limited (AGPAL). AGPAL is a leading independent accreditation provider approved by the industry to accredit general practices based on a set of nationally recognised standards developed by the Royal College of General Practitioners (RACGP). If you would like to read more about accreditation you could click or tap here. 2018 accreditation