Welcome to Dalyellup Family Medical Centre and Dalyellup Skin Care Clinic
Dalyellup Family Medical Centre aims for clinical and caring excellence. We provide comprehensive, general medical care within the framework of mutual respect and honesty. For more information see our Vision Statement .
We are located at Unit 11/ 135 Norton Prm, Dalyellup WA 6230, Australia and can be contacted on phone 9795 6422 or Fax 9795 6477.
UPDATED INFORMATION ABOUT COVID-19 VACCINATION ROLLOUT
The Dalyellup Family Medical Centre's application has been granted to take part in the roll-out of the Government's Covid-19 vaccination program.
The roll-out is now extended to people 50 years and over commencing 3rd May.
We will continue to be allocated a limited amount of the AstraZeneca vaccine from the second week in April 2021.
LATEST ADVICE ON COVID-19 VACCINATION (8 APRIL  2021)
The latest advice on Covid-19 vaccination is based on a new recommendation of the Australian Technical Advisory Group on Immunisation (ATAGI), following new information on evidence of a rare but serious side effect of thrombosis in younger people. You can access the latest advice from ATAGI by clicking here.
The advice states:
ATAGI recommends that the COVID-19 vaccine by Pfizer is preferred over COVID-19 Vaccine AstraZeneca in adults aged under 50 years.
COVID-19 Vaccine AstraZeneca can be used in adults aged under 50 years – where the benefits are likely to outweigh the risks for that individual and the person has made an informed decision based on an understanding of the risks and benefits.
People who have had the first dose of COVID-19 Vaccine AstraZeneca without any serious adverse effects can be given the second dose, including adults under 50 years.
We will be offering these vaccines to the specific eligible groups as per government instructions (see above) and as the vaccines become available to us.
A consent form for this vaccine is available for download by clicking here or from the Practice.
If you could please read this form, complete the questionnaire and bring it with you to your appointment to discuss with the doctor.
Patients who are attending for a COVID-19 vaccination should take 2 Panadol (Paracetamol) tablets before coming for the vaccine and have another dose 4-6 hours after the vaccine. Note that if you already take Panadol Osteo, no further doses of Panadol will need to be taken.
We will be initially trialing Saturday morning clinics from early April by appointment only. Bookings for these clinics will open as soon as we have a confirmed vaccine delivery date. We will introduce more clinics as more vaccines are allocated to us.
This roll-out is a course of two vaccines given 12 weeks apart, therefore you will be offered an appointment time in 12 weeks for your second immunisation when you book for your first.
Once you have your appointment, it is very important you keep this or cancel with plenty of notice so we can offer it to someone else to minimise any wastage of this vaccine.
It is also very important that you do not have your annual influenza vaccine within two weeks, before or after, having the Covid-19 vaccine.
There is a lot of information on the health department website regarding this immunisation program and who and when you are eligible. You can access this by clicking or tapping here.
Both ATAGI and the Therapeutic Goods Administration (TGA) will continue to monitor the situation closely.
IMPORTANT CHANGE TO BILLING ARRANGEMENTS FOR TELEHEALTH CONSULTATIONS
We no longer completely bulk bill the telehealth and telephone consults.
These will now incur a fee that is the same as our usual Practice fees and those patients who are charged can get the Medicare rebate as they would if they attended the clinic. We will continue to bulk bill pension card holders and children under 12yrs. Health care card holders will receive a discounted fee.
Please ask reception if not sure.
DON'T IGNORE YOUR HEALTH
We are continually reminded that while we must be careful going outside our home into shopping centres and other places where groups congregate, and now after 5th December, recording your name, phone number, and arrival time at many venues and also ensuring that physical distancing is maintained and sanitizer is used, taking care of your ongoing medical needs is very important.
Medical practices do not need to record these details however.
Our Medical Centre is a very safe place to visit. It may look a bit different to when you last came but it is a very safe environment. We are practicing strict hygiene and social distancing measures and diverting any potential COVID-19 cases.
So don't ignore your need to personally visit Dalyellup Family Medical Centre and speak with your GP.
TELEHEALTH AT DFMC
The Australian Government has extended Medicare funding for Telehealth until at least June 30 2021 for GPs to provide services via telehealth (video calls or videoconferencing), or phone if telehealth is not available. The purpose is to allow people to access essential health services in their home to reduce their risk of exposure to the COVID-19 virus.
Please call DFMC on 9795 6422 to book a telehealth or phone consultation if required.
If you have a smartphone with email on it, we will send you a link for the video call. We can also make this video call on your tablet, laptop or computer.
5-10 minutes before your telehealth appointment open the link emailed to you.
You will be asked to give your first name and then hit the 'check in' button.
The GP will call you.
If you have respiratory symptoms (cough, sore throat) please measure your temperature before the consultation if you have a thermometer.
We are an Accredited Practice and strive to offer a caring, team based and accessible medical service. If you would like information about billing arrangements, appointments, obtaining results of tests, referrals, telephoning your doctor or providing feedback you could click here to view our patient-information-sheet.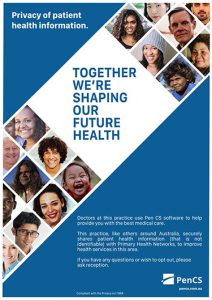 You can access a copy of the New Patient Details and Medical Information sheets by clicking or tapping here. New patient information forms.
The Practice Incentives Program (PIP) Quality Improvement booklet explains about the information Dalyellup Family Medical Centre collects (de-identified) and lets patients know they can opt out if they wish. You can access details of the program by clicking here. Practice Incentives Program
Dalyellup Skin Care Clinic commenced in 2013 to assist Bunbury and South West residents with skin cancers, particularly with early diagnosis and treatment.
Dalyellup Family Medical Centre achieved full accreditation for 3 years after an extensive on-site review on 15th March 2018 by Australian General Practice Accreditation Limited (AGPAL). AGPAL is a leading independent accreditation provider approved by the industry to accredit general practices based on a set of nationally recognised standards developed by the Royal College of General Practitioners (RACGP). If you would like to read more about accreditation you could click or tap here. 2018 accreditation